"Key to our selection of Skyya Communications was their team's impressive credentials in the social media arena, along with Skyya's reputation for delivering award-winning media relations for technology innovators."
• CEO, iCentera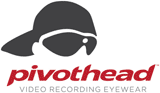 Pivothead
1080P High Definition PR
The Mission
Skyya Communications was engaged to launch Pivothead's first product offering, the only 1080p High Definition Hands Free video recording eyewear and accessories line in the highly competitive point-of-view (POV) consumer electronics market in the United States.
Timeframe
2012
The Skyya Approach
Skyya consciously developed a benefits-based communications strategy to better position the company as a new and viable choice for consumers who do not want to use a helmet camera or clunky obtrusive mounts to capture POV video and stills, and who require 1080p resolution at an affordable price.
Disrupt the POV market with a new hands free form factor and start to capture market share from long-established and credible competitors including GoPro and Contour
Conduct a "seeing is believing" PR campaign to build awareness among the consumer electronics and lifestyle press while building momentum amongst the outdoor/adventure press
Create buzz as the must-have product among traditional eyewear and outdoor/sporting retailers

The Results
The Skyya team secured hundreds of articles from our proactive pitches, product launches, product reviews and news campaigns including: Ask Men, BBC News, Bullz-Eye, Climbing Magazine, Esquire, Forbes, Gear Diary, Huffington Post, LA Times, LAPTOP Magazine, Maxim, Men's Journal, Newsday, Phone Arena, Popular Photography, Popular Science, Shape, TechnologyTell, Thrillist, TrulyNet, USA Today, WIRED,  Vanity Fair, etc.
National TV Broadcast on: ABC World News Now, Bloomberg TV, Business News Network, Good Morning America, FOX and Friends, FOX News, MSNBC, Taste of New York, ,
Retail success - Pivothead launched in Paragon Sports, Sunglass Hut and Sports Authority
Skyya created direct brand exposure to key journalists including David Pogue, (NYT) Walt Mossberg (WSJ), Ed Baig (USA Today), Lauren Goode (AllThingsD), Paul Taylor (Financial Times) and Greg Harper (at DLD Tel Aviv)
Participation at leading industry events including: Digital Experience! Outdoor Retailer and the WIRED Holiday Store in New York City.
For more information, please visit www.pivothead.com.